Melissa's Hope Orphanage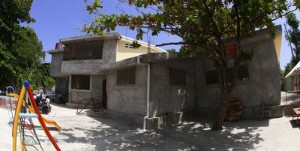 Melissa's Hope is home to 20 orphaned children, half with severe disabilities. It also serves the community as a school and summer camp to 70 local kids who come to learn and play, and to have a meal.
Every child at Melissa's Hope is valued as the future and promise of Haiti.
Melissa's Hope is located just northeast of Port Au Prince, Haiti in Croix-des-Bouquets, an area well known for its artists and lively streets, and for its abject poverty and severe flooding. Its really a wonderful place to visit, but the floods bring a constant battle with infection, cholora, and malaria, so as soon as possible, we will buy the facility so that we can make repairs that will keep flooding at bay, and that will protect water from contamination when high flood waters do pour in.


Caregivers & Maintenance
Melissa's Hope employs nine full-time caregivers who live at the orphanage.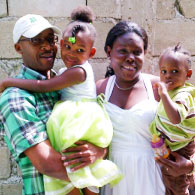 Directors Jean Pascal Bain and Charlette Michel Bain
Jean Pascal Bain and Charlette Michel Bain are the co-directors of Melissa's Hope. They, and their two children live onsite with the children and staff members.
Jean Pascal Bain is also president of Melissa's Hope Foundation Inc., a US based 501c(3) non profit organization.